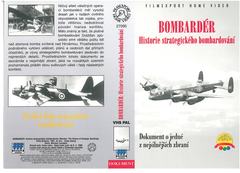 Bombardér: Historie strategického bombardování
Ničivý efekt válečných operací bombardérů měl vysoký dosah jak v řadách civilního obyvatelstva tak vojska, protože většinou nedodržoval původní hranice konfliktů. Málo známý je fakt, že plošné bombardování Drážďan způsobilo smrt většího počtu lidí než atomová bomba svržená nad Hirošimou. Prostřednictvím podrobného vylíčení událostí, plánů a osobních dat přímých účastníků, je vývoj strategického bombardování sledován do nejmenších detailů. Prostřednictvím tohoto dokumentu se seznámíte s nejsilněší zbraní, jaká na rozsáhlých územích poznamenala průběh obou světových válek i řady následných konfliktů.
Přehled dějin strategického bombardování
---
czech title: Bomber: The History of Strategic Bombing
produkce Filmexport: Ano
length: 55 min.
year of release: 1991
studio: Castle Communications PLC
country of origin: Velká Británie
director: Michael Cambell
sound: 1 CZ 2 ME
language version: česká
medium type: BTC
Join us, we have our own channel!

where you will find samples from archival Czech films, animated fairy tales and documentaries, which we have released on DVD. You can also access them from our website, just click on the following names - Movie Songs and Favorite Movie Scenes and Buzz. The samples are sorted here according to individual films.