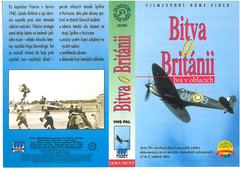 Bitva o Británii - boj v oblacích
Po kapitulaci Francie v červnu 1940, zůstala Británie a její dominia osamělá proti silné německé válečné mašinérii. Válečná strategie země tehdy ležela na bedrech jediného muže - velitele stíhacího letectva, maršála Huga Downdinga. Ten se rozhodl vrhnout do boje proti nepříteli svou nejsilnější zbraň - perutě stíhacích letadel Spitfire a Hurricane. Jeho plán obrany spočíval ve čtyřech hlavních bodech.:
- úderná letecká síla složená ze strojů Spitfire a Hurricane
- pružný systém řízení založený na využití radarů
- protiletecká obrana
- dokonalé krytí leteckých základen
---
czech title: Battle of Britain - The Fight For The Sky
produkce Filmexport: Ano
length: 51 min.
colour: černobílý
year of release: 1989
studio: Castle Communications PLC
country of origin: Velká Británie
director: Michael Cambell
sound: 1 CZ 2 ME
language version: česká
medium type: BTC
Join us, we have our own channel!

where you will find samples from archival Czech films, animated fairy tales and documentaries, which we have released on DVD. You can also access them from our website, just click on the following names - Movie Songs and Favorite Movie Scenes and Buzz. The samples are sorted here according to individual films.