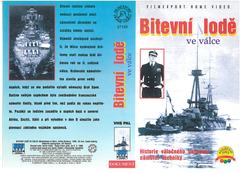 Bitevní lodě ve válce
Bitevní loďstvo získalo vedoucí postavení mezi námořními zbraněmi na počátku tohoto století. Vojenští stratégové pochopili, že těžce vyzbrojené královny moří mohou hrát klíčovou roli ve II. světové válce. Královské námořnictvé slavilo první velký úspěch,  když se mu podařilo vyřadit německý Graf Spee. Dalším velkým úspěchem bylo zneškodnění francouzské námořní flotily, těsně před tím než padla do rukou nepříteli. Později se loďstvo zasadilo o úspěch bojů o severní Afriku, Sicílii, Itálii a při vylodění v den D sloužilo jako plovoucí základna vojákům spojenců.
---
czech title: Battleships At War
produkce Filmexport: Ano
length: 55 min.
colour: barevný
year of release: 1992
studio: Castel Communications PLC
country of origin: Velká Británie
sound: 1 CZ 2 ME
language version: česká
medium type: BTC
Join us, we have our own channel!

where you will find samples from archival Czech films, animated fairy tales and documentaries, which we have released on DVD. You can also access them from our website, just click on the following names - Movie Songs and Favorite Movie Scenes and Buzz. The samples are sorted here according to individual films.