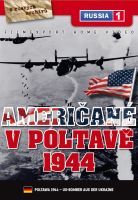 Americans in Poltava, The - 1944 - digipack
Před slavným setkáním na Labi se Američané a Rusové ocitli poprvé tváří v tvář v ukrajinské Poltavě. V roce 1944 totiž Američané nedaleko Poltavy vybudovali první a jedinou leteckou základnu na území tehdejšího Sovětského svazu, která sloužila americkým bombardérům. Američané ani Rusové tehdy nehleděli na rozdílnou ideologii či světový názor, neboť bojovali proti stejnému nepříteli. Mnozí z těch, jež na základně sloužili, dodnes vzpomínají na to horké léto onoho roku, kdy mezi Američany i Rusy panovalo porozumění a přátelství.

videoukázka
---
czech title: Poltawa 1944 - US-Bomber aus der Ukraine
produkce Filmexport: Ano
length: 44 min.
colour: černobílý
year of release: 2004
studio: TV Channel Russia
country of origin: Rusko
director: Konstantin Davidkin
script: Jelena Prochorova
picture: 4:3 PAL, region 2
sound: Dolby Digital 2.0
language version: česká, německá
medium type: DVD-5, digipack
EAN: 8595052207504
Join us, we have our own channel!

where you will find samples from archival Czech films, animated fairy tales and documentaries, which we have released on DVD. You can also access them from our website, just click on the following names - Movie Songs and Favorite Movie Scenes and Buzz. The samples are sorted here according to individual films.