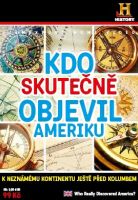 Who Really Discovered America? - digipack
Historičtí badatelé se intenzivně zabývají teoriemi o cestovatelích, kteří na půdě amerického kontinentu stanuli ještě před rokem 1492. Hypotézy o dávném objevení Ameriky v dobách mnohem vzdálenějších nabývají na věrohodnosti díky moderní vědě a překvapivým archeologickým nálezům. Ve hře jsou legendy i hmatatelné důkazy a mezi hlavními hráči figurují jak dávní Evropané, tak obyvatelé Asie i tichomořské národy. Jedno se ale zdá být jisté, Amerika byla objevena a posléze znovu objevována podstatně dříve, než k jejím břehům doplul Kryštof Kolumbus.

videoukázka
---
czech title: Who Really Discovered America?
produkce Filmexport: Ano
length: 88 min.
colour: barevný
year of release: 2010
studio: A&E Television Networks, LLC.
country of origin: USA
picture: 4:3 PAL, region 2
sound: Dolby Digital 2.0
language version: česká, anglická
medium type: DVD-5, digipack
EAN: 8595052207207
Join us, we have our own channel!

where you will find samples from archival Czech films, animated fairy tales and documentaries, which we have released on DVD. You can also access them from our website, just click on the following names - Movie Songs and Favorite Movie Scenes and Buzz. The samples are sorted here according to individual films.