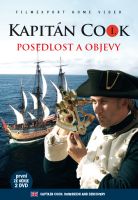 Captain Cook: Obsession and Discovery I. - DVD sleeve
James Cook dokázal během tří neuvěřitelných plaveb popsat větší kus naší zeměkoule než kterýkoli jiný muž. Staňte se svědky objevení Havajských ostrovů Jamesem Cookem. Vydejte se na plavbu kolem nezmapovaného pobřeží Nového Zélandu, abyste dokázali, že není součástí velkého jižního světadílu. Přistaňte s kapitánem Cookem v Botany Bay, kde prohlašuje Austrálii za výsostné území anglického krále a Británie, a jejíž objevení Cookem nebylo zpochybněno po více než jedno století. Je to příběh o posedlosti a objevování, o úctě i brutalitě, o odvaze i šílenství. Po stopách jeho životního příběhu, který je zčásti biografický a zčásti cestopisný, nás provede britská autorka bestsellerů Vanessa Collingridgeová, která je odbornicí na Jamese Cooka.
1. díl - Nadějný mládenec
2. díl - Cook přebírá velení

videoukázka
---
czech title: Captain Cook: Obsession and Discovery
produkce Filmexport: Ano
length: 55 min. + 53 min.
colour: barevný
year of release: 2007
studio: Film Australia Ltd, Cook Films, Ferns Productions, Film Victoria
country of origin: Austrálie
director: Wain Fimeri, Paul Rudd, Matthew Thomason
script: Wain Fimeri, Paul Rudd, Matthew Thomason
picture: 16:9 PAL, region ALL
sound: Dolby Digital 2.0
language version: česká, anglická
medium type: DVD-5, papírová pošetka
Join us, we have our own channel!

where you will find samples from archival Czech films, animated fairy tales and documentaries, which we have released on DVD. You can also access them from our website, just click on the following names - Movie Songs and Favorite Movie Scenes and Buzz. The samples are sorted here according to individual films.