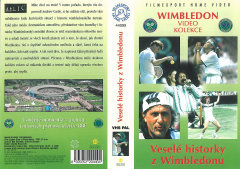 Veselé historky z Wimbledonu
Máte chuť na tenis? V tomto pořadu, kterým vás doprovodí Andrew Castle, si ho můžete užít, protože vám nabídneme řadu kuriózních situací z historie wimbledonského turnaje. Také jeho módu, dramatickou atmosféru, představíme vám fanoušky i fanynky. Wimbledonský centrální dvorec je totiž svatostánkem světového tenisu a mladí tenisté ze všech koutů planety sní o tom, že okusí, jak chutná Wimbledon. Sní o úspěšně zakončeném mečbolu a slávě, která čeká na každého, kdo uspěje. A tak není divu, že napínavá klání přinášejí řadu zajímavých a neobvyklých situací. Přenosy z Wimbledonu může sledovat každým rokem až miliarda diváků a tenisté tady dělají opravdu vše protp, aby uspěli.
---
czech title: The Lighter Side of Wimbledon
produkce Filmexport: Ano
length: 51 min.
colour: barevný
year of release: 1997
studio: AELTC
country of origin: USA
director: Charlie Risso-Gill
language version: česká
medium type: BTC
Join us, we have our own channel!

where you will find samples from archival Czech films, animated fairy tales and documentaries, which we have released on DVD. You can also access them from our website, just click on the following names - Movie Songs and Favorite Movie Scenes and Buzz. The samples are sorted here according to individual films.