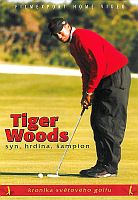 Tiger Woods - syn, hrdina, šampion
Od chvíle, kdy se syn amerického vojáka a thajské maminky představil na své první tiskové konferenci, přitáhl diváky tam, kam předtím tolik nechodili. Totiž na golfová hřiště. Mnoho jeho příznivců se domnívá, že tento mimořádně nadaný golfista přivede golf i na místa této hře doposud zapovězená. Na scénu vstoupil jako jednadvacetiletý a po svých obdivuhodných úspěších v juniorských soutěžích začíná sbírat tituly z prestižních turnajů Majors. Svým dokonalým švihem a zářivým úsměvem si získá sympatie okolí. Dveře do budoucnosti má otevřené a jeho příznivci věří, že spolu s ním vkročili na nezapomenutelnou cestu historie.
---
czech title: Son, Hero, Champion
produkce Filmexport: Ano
length: 59 min.
colour: barevný
year of release: 1997
studio: ETW Corporation
country of origin: USA
director: Tony Canni
sound: 1 CZ MIX 2 CZ MIX 3 orig mix 3 ME
language version: česká
medium type: BTC
Join us, we have our own channel!

where you will find samples from archival Czech films, animated fairy tales and documentaries, which we have released on DVD. You can also access them from our website, just click on the following names - Movie Songs and Favorite Movie Scenes and Buzz. The samples are sorted here according to individual films.