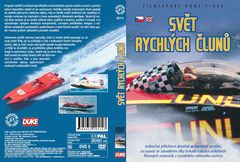 Svět rychlých člunů
Program nahlíží na historii specifického motoristického sportu od jeho zrození v prvních letech dvacátého století až po současnost. Počátky závodů motorových člunů spadají do období před první světovou válkou, kdy se člověk snažil vměstnat vůz opatřený leteckým motorem do chatrných a často nevhodných dřevěných skořápek. Skutečný rozvoj však nastává až po druhé světové válce, nejdříve v Americe, posléze v Evropě, a to opravdovým vývojem vhodných komponentů, rozvojem potřebného designu a sladěním nezbytných požadavků s podmínkami v místě konání soutěží. Do téže doby spadá i tvorba prvních základních pravidel závodění.
Dokument potěší všechny fanoušky, kteří si možná ještě pamatují na závody volné třídy, jež se pořádaly v USA v šedesátých letech minulého století, také ty, kteří znovu rádi spatří závodit Angela Molinariho a chtějí se dozvědět, co prvotřídního pilota Achilliho motivuje k extrémnímu riziku. Stejně tak je určen těm, kteří prostě jen milují úžasný svět rychlých motorů a vodního živlu a jsou okouzleni extrémními výkony výjimečných osobností a dokonalých strojů.
 
---
czech title: World of Powerboats
produkce Filmexport: Ano
length: 60 min.
colour: barevný
year of release: 1994
studio: FM TELEVISION LONDON
country of origin: Velká Británie
picture: 4:3 PAL, region ALL
sound: Dolby Digital 2.0
language version: česká, anglická
medium type: DVD-5, DVD box
EAN: 8595052295747
Join us, we have our own channel!

where you will find samples from archival Czech films, animated fairy tales and documentaries, which we have released on DVD. You can also access them from our website, just click on the following names - Movie Songs and Favorite Movie Scenes and Buzz. The samples are sorted here according to individual films.