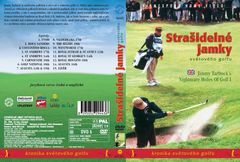 Strašidelné jamky světového golfu
Jimmy Turbuck nám nabízí zajímavou procházku po věhlasných golfových hřištích a záludných jamkách, kde se rodí sláva golfistova nebo bolestná porážka. A tak si zavzpomínáme, jak si profesionální golfisté umějí poradit například s pověstným hlubokým bunkrem na Road Hole a St. Andrews, jak se hraje buzarem o zídku, jak si přihrát z můstků nad vodními překážkami nebo přímo z nich, apod. Duši golfisty - amatéra potěší, že se s problémy mimo parádně střiženou fairway nepere sám.
---
czech title: Jimmy Tarbuck's Nightmare Holes of Golf
produkce Filmexport: Ano
length: 55 min.
colour: barevný
year of release: 1995
studio: Trans World International
country of origin: Velká Británie
picture: 4:3, PAL, region ALL
sound: Dolby Digital 2.0
language version: česká, anglická
medium type: DVD-5, DVD box
EAN: 8595052294436
Join us, we have our own channel!

where you will find samples from archival Czech films, animated fairy tales and documentaries, which we have released on DVD. You can also access them from our website, just click on the following names - Movie Songs and Favorite Movie Scenes and Buzz. The samples are sorted here according to individual films.