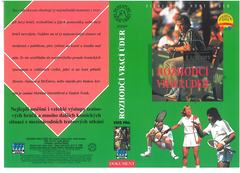 Rozhodčí vrací úder
Tento videoprogram obsahuje ty nejsměšnější momenty z rozepří mezi hráči, rozhodčími a jejich pomocníky, nebo mezi hráči navzájem. Najdete na ní ty nejnemožnější situace od incidentů s publikem, přes zvířata na kurtě a letadla nad ním. To vše sestřiháno do nepřetřžitého proudu komických vystoupení a zvláštních zvyků, jaké si na kurt přináší Messrs, Nastase a McEnroe, nebo ve smyslu pro humor, kterým je známá Martina Navrátilová a Yanick Noah.
---
czech title: The Umpire Strikes Back
produkce Filmexport: Ano
length: 47 min.
colour: barevný
year of release: 1992
studio: Castle Communications PLC
country of origin: Velká Británie
sound: 1 CZ 2 ME
language version: česká
medium type: BTC
Join us, we have our own channel!

where you will find samples from archival Czech films, animated fairy tales and documentaries, which we have released on DVD. You can also access them from our website, just click on the following names - Movie Songs and Favorite Movie Scenes and Buzz. The samples are sorted here according to individual films.