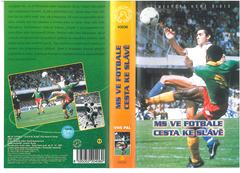 MS ve fotbale - Cesta ke slávě
Dvě mistrovství světa, která přinesla radost i Československu. Stříbrná medaile (Chile 1962) je dodnes jedním z největších úspěchů československého fotbalu, vždyť jména Masopust, Novák, Pluskal, Kvašňák znají fotbaloví fandové i dnes. V roce 1958 začala hvězdná fotbalová kariéra tehdy neznámého sedmnáctiletého mladíčka Pelého, který se později usadil na trůnu fotbalového krále. Ovšem nejen on byl v té době oslavován davy. Byli tu další Brazilci - Vavá, Garrincha a Didi nebo Francouzi - Fontaine, Kopa a Pioline či legendární Lev Jašin, Maďar Bene a mnoho dalších. Právě tyto dochované, čtyřicet let staré záběry, jsou opravdovou lahůdkou pro oko fotbalového labužníka.
---
czech title: The Road to Glory
produkce Filmexport: Ano
length: 78 min.
colour: černobílý / barevný
year of release: 1994
studio: Trans World International
country of origin: Velká Británie
sound: 1 CZ 2 ME 3 orig 4 ME
language version: česká
medium type: BTC
Join us, we have our own channel!

where you will find samples from archival Czech films, animated fairy tales and documentaries, which we have released on DVD. You can also access them from our website, just click on the following names - Movie Songs and Favorite Movie Scenes and Buzz. The samples are sorted here according to individual films.