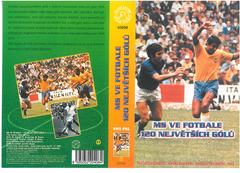 MS ve fotbale - 120 největších gólů
Přehled nejzajímavějších gólů v historii mistrovství světa od roku 1958. V tomto dokumentu můžete vidět nejen góly samotné, ale i celé akce, které gólům předcházely. Jsou zde zařazeny branky důležité, které pomohly některým mužstvům k postupu do dalších kol, a také góly samy o sobě hezké, kuriózní či jinak divácky zajímavé. Mezi všemi můžeme jmenovat například gól Angličana Hursta ve finále v roce 1966 nebo Pelého z let 1958-1970. Tento dokument je tedy ojedinělou komplexní podívanou na to, co je kořením kopané a co dělá fotbal fotbalem.
---
czech title: The Goals
produkce Filmexport: Ano
length: 80 min.
colour: černobílý / barevný
year of release: 1994
studio: Trans World International
country of origin: Velká Británie
sound: 1 CZ 2 ME 3 MIX 4 ME
language version: česká
medium type: BTC
Join us, we have our own channel!

where you will find samples from archival Czech films, animated fairy tales and documentaries, which we have released on DVD. You can also access them from our website, just click on the following names - Movie Songs and Favorite Movie Scenes and Buzz. The samples are sorted here according to individual films.