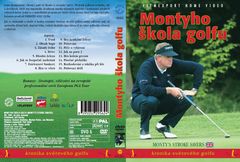 Montyho škola golfu
Colin Montgomerie (Monty) patří dlouho k evropské špičce. Předvádí golfovou techniku, styl a dovednosti, které mu napomohly dosáhnout mnoha výrazných úspěchů v konkurenci předních světových hvězd. jedná se o instruktážní program pro hráče všech úrovní, který byl natočen v překrásném prostředí Emirates Golf Clubu.
---
czech title: Monty's Stroke Savers
produkce Filmexport: Ano
length: 55 min.
colour: barevný
year of release: 1997
studio: Trans World International
country of origin: Velká Británie
director of photography: Graham Goldston, Martyn Porter, Jon Wensley
picture: 4:3, PAL, region ALL
sound: Dolby Digital 2.0
language version: česká, anglická
medium type: DVD-5, DVD box
---
bonusy
Životopis, vítězství na evropské profesionální sérii Euriopean PGA Tour
Join us, we have our own channel!

where you will find samples from archival Czech films, animated fairy tales and documentaries, which we have released on DVD. You can also access them from our website, just click on the following names - Movie Songs and Favorite Movie Scenes and Buzz. The samples are sorted here according to individual films.