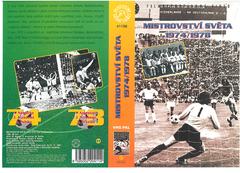 Mistrovství světa 1974/1978
V roce 1974 vyvrcholí kariéra hvězd světového fotbalu Beckenbauera, Maiera, Gerda Miüllera i jejich trenéra Helmuta Schöna. Světové jméno si zde vydobyla řada dalších hráčů jako například Lato, Deyna, Cruyff, Neeskens, Rep, přičemž tři posledně jmenovaní měli lví podíl na tzv. "totálním fotbalu", kterým se tehdy Holanďané proslavili.
V roce 1978 v Argentině se například představí Kempes, Rensenbrink, Zico, Zoff, Rossi či Rummenigge a to jsou jména dodávající lesk karnevalovému reji, který v hledišti vytvořili fantastiční jihoameričtí diváci.
---
czech title: The Tournaments 1974/1978
produkce Filmexport: Ano
length: 80 min.
colour: černobílý / barevný
year of release: 1994
studio: Trans World International
country of origin: Velká Británie
sound: 1 CZ 2 ME 3 orig 4 ME
language version: česká
medium type: BTC
Join us, we have our own channel!

where you will find samples from archival Czech films, animated fairy tales and documentaries, which we have released on DVD. You can also access them from our website, just click on the following names - Movie Songs and Favorite Movie Scenes and Buzz. The samples are sorted here according to individual films.