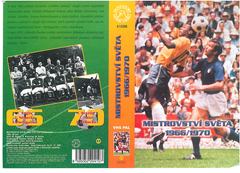 Mistrovství světa 1966/1970
V roce 1966 získala konečně "kolébka fotbalu" Anglie právo uspořádat mistrovství světa. Uvidíte fotbalové hvězdy jako Bobby Charltona, Lva Jašina, Eusébia, Franze Beckenbauera a řadu dalších. Největším překvapením a senzací v Anglii byli Korejci, kteří nejenže vyřadili Itálii, ale dokázali znepříjemnit život i Portugalsku v čele s Eusébiem.
V roce 1970 v Mexiku budete svědky vyvrcholení fotbalové virtuozity nejslavnějšího brazilského týmu, vedeného legendární postavou fotbalové historie - Pelém.
---
czech title: The Tournaments 1966/1970
produkce Filmexport: Ano
length: 80 min.
colour: černobílý / barevný
year of release: 1994
studio: Trans World International
country of origin: Velká Británie
sound: 1 CZ 2 ME 3 orig 4 ME
language version: česká
medium type: BTC
Join us, we have our own channel!

where you will find samples from archival Czech films, animated fairy tales and documentaries, which we have released on DVD. You can also access them from our website, just click on the following names - Movie Songs and Favorite Movie Scenes and Buzz. The samples are sorted here according to individual films.