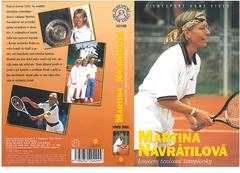 Martina Navrátilová - loučení tenisové šampiónky
Psal se červen 1994. Na wimbledonském centrálním dvorci zahajuje Martina Navrátilová své poslední tažení za titulem ve dvouhře. V sedmatřiceti letech měla tato tenisová legenda z Řevnic nedaleko Prahy na svém kontě víc titulů a peněz, než kterákoliv jiná tenistka historie. Martině ten den držel palce snad celý svět, ale vždy tomu tak nebývalo. Tento filmový profil vypráví o její kariéře a osobním životě s nebývalou otevřeností, stejně jako se ona sama chovala ve svém veřejném životě.
---
czech title: Martina Navrátilová- Farewel to a Champion
produkce Filmexport: Ano
length: 50 min.
colour: barevný
year of release: 1994
studio: AELTC
country of origin: USA
director: Clare Beanen
picture: 4:3 PAL
sound: 1 CZ 2 originál
language version: česká
Join us, we have our own channel!

where you will find samples from archival Czech films, animated fairy tales and documentaries, which we have released on DVD. You can also access them from our website, just click on the following names - Movie Songs and Favorite Movie Scenes and Buzz. The samples are sorted here according to individual films.