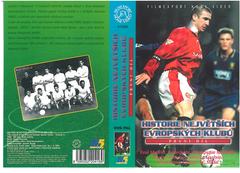 Historie největších evropských klubů - 1. díl
Letiště v Mnichově. V troskách hořícího letadla bojují o život fotbalisté Manchesteru United. Přežívá pouze hrstka hráčů a z horkého favorita PMEZ je během pár okamžiků vyložený outsider. O pár let později drží nad hlavou vítěznou trofej PMEZ Bobby Charlton, kapitán "REDS", kterého objímá trenér Matt Busby - dva z těch, kteří leteckou katastrofu přežili.
Tento strastiplný příběh anglického mistra, ale i mnoho dalších zajímavých momentů, vám přináší 1. díl z historie nejslavnějších evropských fotbalových klubů.
---
czech title: The Legend Of The Greatest European Soccer Teams 1.
produkce Filmexport: Ano
length: 109 min.
colour: barevný/černobílý
year of release: 1995
studio: Mercury 5 Ltd.
country of origin: Velká Británie
director: Serge Reginald
sound: 1 cz 2 ME 3 CZ 4 ME
language version: česká
medium type: BTC
Join us, we have our own channel!

where you will find samples from archival Czech films, animated fairy tales and documentaries, which we have released on DVD. You can also access them from our website, just click on the following names - Movie Songs and Favorite Movie Scenes and Buzz. The samples are sorted here according to individual films.