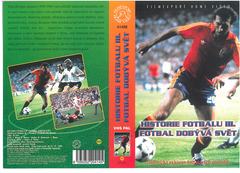 Historie fotbalu 3 - Fotbal dobývá svět
Třetí díl kopané (1974-1990) nám přiblíží zajímavé okamžiky, které mají mnozí z nás ještě v živé paměti. Kdo by zapomínal na eleganci Beckenbauera, Maerovy parády, střeleckou potenci Gerda Müllera, Lata, Rensenbrinka, invenci Kempese nebo mnohdy geniální kousky zřejmě největší hvězdy této éry - Argentince Diega Armanda Maradony. Všimneme si také vzestupu kopané v Africe, jejíž fotbalisté od Eusebia přes Millu, Gullita, Rijkaarda až po dnes hrající Kanua či Yeboaha, jsou nejen platnými hráči evropských týmů, ale pro svůj styl i vítaným lákadlem pro fanoušky. Za povšimnutí stojí i vývoj ženské kopané.
---
czech title: Footbal Conquers The World
produkce Filmexport: Ano
length: 53 min.
colour: barevný
year of release: 1993
studio: Trans World International
country of origin: Velká Británie
director: J. Bakel, S. Binns
sound: 1 CZ 2 ME 3 orig 4 ME
language version: česká
medium type: BTC
Join us, we have our own channel!

where you will find samples from archival Czech films, animated fairy tales and documentaries, which we have released on DVD. You can also access them from our website, just click on the following names - Movie Songs and Favorite Movie Scenes and Buzz. The samples are sorted here according to individual films.