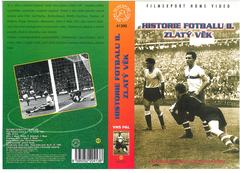 Historie fotbalu 2 - Zlatý věk
Ve 2. dílu o historii kopané, který nese název "Zlatý věk", budete svědky největšího rozmachu moderní kopané. Právě v této době působí takové hvězdy jako Pelé, Garrincha, Beckenbauer, Bobby Charlton, Puskas, di Stafano, Kopa, Fontaine, Masopust, Jašin či Vavá. Oni, ale i mnozí další, jsou hlavními protagonisy mistrovství světa, klubových pohárů a jiných soutěží, jimž je věnována tato kazeta. Uvidíte i pravděpodobně nejslavnějšího "fotbalového" psa Picklese, který v roce 1966 v Anglii našel, ještě před začátkem turnaje ukradenou, Zlatou Niké.
---
czech title: The Golden Age
produkce Filmexport: Ano
length: 53 min.
colour: barevný
year of release: 1990
studio: Trans World International
country of origin: Velká Británie
director: J. Bakel, S. Binns
sound: 1 CZ 2 ME 3 orig 4 ME
language version: česká
medium type: BTC
Join us, we have our own channel!

where you will find samples from archival Czech films, animated fairy tales and documentaries, which we have released on DVD. You can also access them from our website, just click on the following names - Movie Songs and Favorite Movie Scenes and Buzz. The samples are sorted here according to individual films.