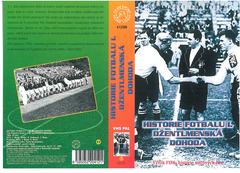 Historie fotbalu 1 - Džentlmenská dohoda
V 1. dílu fotbalových dějin se autoři snaží vypátrat opravdové kořeny kopané. Bylo to v Asii, Americe, Evropě nebo kde se vůbec zrodila nejrozšířenější hra lidské populace? Od snahy po zodpovězení této otázky se dostaneme až vytvoření The Football Association. Londýnský restaurant Freemasons' Tavern se 26. října 1863 nesmazatelně zapsal do dějin kopané, neboť právě toto datum je obecně považováno za počátek dějin moderního fotbalu. Přes založení FIFA, vytvoření prvních soutěží a zavedení profesionalismu se dostaneme až k poháru pro mistra světa - Zlaté Niké.
---
czech title: By Gentlemens Agreement
produkce Filmexport: Ano
length: 53 min.
colour: barevný
year of release: 1994
studio: Trans World International
country of origin: Velká Británie
director: J. Bakel, S. Binns
sound: 1 CZ 2 ME 3 orig 4 ME
language version: česká
medium type: BTC
Join us, we have our own channel!

where you will find samples from archival Czech films, animated fairy tales and documentaries, which we have released on DVD. You can also access them from our website, just click on the following names - Movie Songs and Favorite Movie Scenes and Buzz. The samples are sorted here according to individual films.