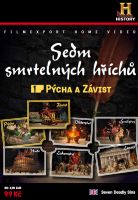 Seven Deadly Sins 1 - Pride, Envy - digipack
Pýcha
Dante Alighieri označil pýchu za nejhorší ze všech hříchů, neboť je hříchem samotného Satana. Zatímco Bible i řecký filosof Sokrates shodně pýchu zavrhli, staří Římané a Vikingové z ní učinili největší ctnost. Třebaže právě pýcha je považována za příčinu Satanova pádu, nejznámější příběh o osudu padlého anděla v Bibli nenajdeme. Kde tedy hledat kořeny tohoto hříchu?

Závist
Středověký filosof a světec Tomáš Akvinský prohlásil, že ti, kdož se provinili hříchem závisti, si libují v neštěstí druhých. Dante Alighieri popsal závistivce jako hříšníky, jejichž trestem jsou zašité oči, neboť se radovali z utrpení druhých. Závist byla a je prapůvodcem vražd, revolucí i pádu celých říší. Je možné, že by se v dnešním moderním světě, jemuž vládne dokonalý image, proměnila závist z hříchu ve ctnost?
videoukázka
---
czech title: Seven Deadly Sins - Pride, Envy
produkce Filmexport: Ano
length: 46 min. + 46 min.
colour: barevný
year of release: 2008
studio: A&E Television Networks, LLC.
country of origin: USA
picture: 4:3 PAL, region 2
sound: Dolby Digital 2.0
language version: česká, anglická
medium type: DVD-5, digipack
EAN: 8595052208792
Join us, we have our own channel!

where you will find samples from archival Czech films, animated fairy tales and documentaries, which we have released on DVD. You can also access them from our website, just click on the following names - Movie Songs and Favorite Movie Scenes and Buzz. The samples are sorted here according to individual films.