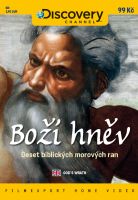 God´s Wrath - digipack
Dokument nabízí neotřelý a moderní pohled na tradičních deset biblických morových ran. Věnuje se biblické potopě, invazi kobylek, zkažené vodě atd. Nezůstává však u pouhého vylíčení biblických projevů Božího hněvu, nýbrž je přenáší do moderního světa pomocí velmi zdařilých animací. A navíc pátrá i po historických souvislostech, které mohly autorům Bible sloužit jako inspirace.

videoukázka
---
czech title: God´s Wrath
produkce Filmexport: Ano
length: 44 min.
colour: barevný
year of release: 2010
studio: DISCOVERY COMMUNICATIONS, LLC.
country of origin: USA
picture: 16:9 PAL, region 2
sound: Dolby Digital 2.0
language version: česká, anglická
medium type: DVD-5, digipack
EAN: 8595052208631
Join us, we have our own channel!

where you will find samples from archival Czech films, animated fairy tales and documentaries, which we have released on DVD. You can also access them from our website, just click on the following names - Movie Songs and Favorite Movie Scenes and Buzz. The samples are sorted here according to individual films.