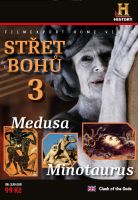 Clash of the Gods 3: Medusa, Minotaur - digipack
Medusa - Podle báje byla Medusa kdysi krásnou ženou. Poseidon – bůh moře – však pokořil panenskou kněžku v Athénině chrámu a ta ji proměnila z krásky v příšeru. Medusa byla od té doby postrachem mužů. Dokázala jediným pohledem proměnit své nepřátele v kámen. Byla nejslavnější řecká nestvůra inspirována mrtvolou člověka? Objevme skrytý smysl jednoho z největších příběhů, který kdy byl vyprávěn.

Minotaurus - Vzteklá a běsnící hříčka přírody. Napůl člověk, napůl býk, zamčen v gigantickém bludišti. Podle legendy manželka krétského krále Mínoa svedla býka. Po čase porodila Minotaura. Král nechal postavit labyrint, do kterého Minotaura uvěznil a donutil ho pojídat své oběti. Ale co se ve skutečnosti skrývá za příběhem? Svět lidské oběti a války. Toto je mýtus o Minotaurovi.
| | |
| --- | --- |
| | |
| videoukázka - Medusa | videoukázka - Minotaurus |
---
czech title: Clash of the Gods: Medusa, Minotaur
produkce Filmexport: Ano
length: 46 min. + 45 min.
colour: barevný
year of release: 2009
studio: A&E Television Networks, LLC.
country of origin: USA
picture: 4:3 PAL, region 2
sound: Dolby Digital 2.0
language version: česká, anglická
medium type: DVD-5, digipack
EAN: 8595052208846
Join us, we have our own channel!

where you will find samples from archival Czech films, animated fairy tales and documentaries, which we have released on DVD. You can also access them from our website, just click on the following names - Movie Songs and Favorite Movie Scenes and Buzz. The samples are sorted here according to individual films.