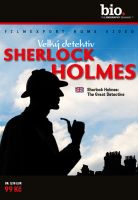 Sherlock Holmes: The Greate Detective - digipack
První příběh "Studie v šarlatové" byl vydán v Londýně v roce 1887 v časopise Strand. Holmes má široké znalosti o vědeckém pokroku své doby a vědu používá i při řešení svých případů. Je prvním detektivem, který využívá "nové" vynálezy – telefon, vlak i forenzní metody, tj. krevní skvrny, otisky šlápot, textilní vlákna, atd. Film analyzuje Holmesovu nechuť k ženám ("Ženám nelze věřit, a to ani těm nejlepším") i jeho náklonnost k rekreačním drogám, které byly v 90. letech 19. století legální. Jeho IQ se odhaduje na úrovni 200. Conan Doyle zemřel v roce 1930. Jeho největší výtvor však žije dál. Tento excentrický Angličan z jiného věku se stal nesmrtelným. Jeho slabosti ho činí lidským. Sherlock Holmes byl největším strojem na dedukci, nadějí ztracených případů i šampiónem spravedlnosti.

videoukázka
---
titul naleznete také zde:
---
czech title: Sherlock Holmes: The Greate Detective
produkce Filmexport: Ano
length: 48 min.
colour: barevný
year of release: 1995
studio: A&E Television Networks, LLC.
country of origin: USA
director: Peter Swain
picture: 4:3 PAL, region 2
sound: Dolby Digital 2.0
language version: česká, anglická
medium type: DVD-5, digipack
EAN: 8595052208921
Join us, we have our own channel!

where you will find samples from archival Czech films, animated fairy tales and documentaries, which we have released on DVD. You can also access them from our website, just click on the following names - Movie Songs and Favorite Movie Scenes and Buzz. The samples are sorted here according to individual films.