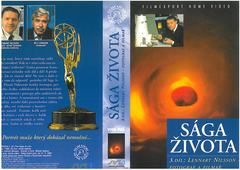 Sága života - 3. díl: Lennart Nilsson - fotograf a filmař
Kdo je muž, který nám umožňuje vidět nikdy neviděné? Kde se v něm vzala ona neutuchající zvídavost? Touha posouvat hranice snímací techniky stále dál a dál? A především: Jak to vlastně dělá? Na tyto a další otázky vám dá odpověď poslední díl Sága života. Přináší Nilssonův krátký životopis, první svého druhu, nahlédnutí do mistrovy tvůrčí dílny, seznámení s principy jeho unikátních objektivů a kamer. A samozřejmě ani v tomto díle nechybějí mnohé další pozoruhodné záběry, které díky své zvídavosti a houževnatosti natočil. Poznáte, kolik úsilí se za každým z nich skrývá a kolik větších či menších úskalí je třeba překonat. Staňte se svědky natáčení...
---
czech title: The Saga of Life
produkce Filmexport: Ano
length: 54 min.
colour: barevný
year of release: 1996
studio: Sveriges Televison AB
country of origin: Švédsko
director: Mikael Agaton
script: Mikael Agaton
director of photography: Lennart Nilsson
sound: L CZ R CZ 3 ME 4 ME
language version: česká
medium type: BTC
Join us, we have our own channel!

where you will find samples from archival Czech films, animated fairy tales and documentaries, which we have released on DVD. You can also access them from our website, just click on the following names - Movie Songs and Favorite Movie Scenes and Buzz. The samples are sorted here according to individual films.