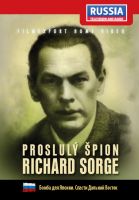 Richard Sorge - digipack
V říjnu 1941 obdržela japonská kontrarozvědka informace o podvratné činnosti Richarda Sorgeho. Pochopitelně to bylo podivné, neboť Richard Sorge byl tiskový atašé německého velvyslanectví v Tokiu, nacistický pohlavár, jenž byl pravidelným hostem v císařském paláci a přátelil se s mnoha japonskými generály i se samotným šéfem kontrarozvědky. Byl snad Richard Sorge německým špionem anebo naopak pracoval pro Sověty?

videoukázka
---
czech title: Richard Sorge
produkce Filmexport: Ano
length: 44 min.
colour: barevný/černobílý
year of release: 2011
studio: VGTRK
country of origin: Rusko
director: Denis Šulenov
script: Vitalij Bogdanov, Denis Šulenov, Viačeslav Zimonin
picture: 16:9 PAL, region 2
sound: Dolby Digital 2.0
language version: česká, ruská
medium type: DVD-5, digipack
EAN: 8595052208075
Join us, we have our own channel!

where you will find samples from archival Czech films, animated fairy tales and documentaries, which we have released on DVD. You can also access them from our website, just click on the following names - Movie Songs and Favorite Movie Scenes and Buzz. The samples are sorted here according to individual films.