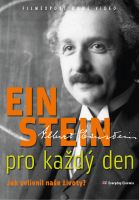 Nature of Things, The: Everyday Einstein - digipack
Vydejte se na strhující výlet do světa nejšpičkovějších technologií, u jejichž zrodu stály právě revoluční myšlenky tohoto génia, a odhalte pravdu o tom, jak výrazně se jeho novátorské názory podílely na formování moderního myšlení. Dokumentem se prolínají tři klíčová data: rok 1905, který je označován jako annus mirabilis neboli zázračný rok, rok 1955, kdy Albert Einstein zemřel, a současnost.
Prostřednictvím dobových kulis i nevídaných vizuálních efektů společně projdete skrz historické milníky Einsteinova života a odhalíte, jak se ryze teoretické práce tohoto "vládce času" staly nepostradatelnou součástí našeho každodenního života. Ukážeme vám nejmodernější technické vymoženosti, které používáte každý den a za které vděčíte právě jemu. Ať už se jedná o digitální fotoaparáty či kamery, iPody, CD přehrávače anebo globální polohovací systém GPS – to vše se zrodilo z jeho radikálních nápadů. Kromě nástrojů a technologií nám ovšem dal i něco mnohem cennějšího – otevřel nám nový pohled na svět, v němž žijeme.

videoukázka
---
czech title: The Nature of Things: Everyday Einstein
produkce Filmexport: Ano
length: 43 min.
colour: barevný
year of release: 2006
studio: CANADIAN BROADCASTING CORPORATION
country of origin: Kanada
director: Daniel Zuckerbrot
script: Daniel Zuckerbrot
picture: 16:9 PAL, region 2
sound: Dolby Digital 2.0
language version: česká, anglická
medium type: DVD-5, digipack
EAN: 8595052206880
Join us, we have our own channel!

where you will find samples from archival Czech films, animated fairy tales and documentaries, which we have released on DVD. You can also access them from our website, just click on the following names - Movie Songs and Favorite Movie Scenes and Buzz. The samples are sorted here according to individual films.