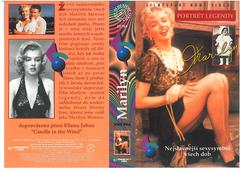 Marilyn - portrét legendy
Život nejslavnějšího sexysymbolu všech dob Marilyn Monroe byl zkoumán více než cokoliv jiného. Přesto je v něm stále ještě mnoho temných a neobjasněných míst. Tento film popisuje osudy budoucí hvězdy od dětství, kdy její matka zešílela a ona se stala sirotkem, přes svatbu v šestnácti letech až po první filmy, které ji předurčily k životu slavné hollyvoodské superstar. Film Marilyn - portrét legendy, nám dává nahlédnout do soukromého života Normy Jean, kterou jsme znali jako Marilyn Monroe.
doprovázeno písní Eltona Johna "Candle in the Wind"
---
czech title: Marilyn Monroe
produkce Filmexport: Ano
length: 1954
colour: černobílý / barevný
year of release: 1992
studio: Powersports Productions
country of origin: USA
director: Bill Gibson
sound: 1 cz 2 originál
language version: česká
medium type: BTC
Join us, we have our own channel!

where you will find samples from archival Czech films, animated fairy tales and documentaries, which we have released on DVD. You can also access them from our website, just click on the following names - Movie Songs and Favorite Movie Scenes and Buzz. The samples are sorted here according to individual films.