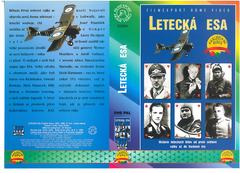 Letecká esa
Během I. světové války se objevila nová forma střetnutí - letecké souboje. Od začátku se jim dostávalo velké pozornosti. Zrodili se noví hrdinové - stíhací piloti. Ti nejlepší z nich byli známí jako ESA. Velká odvaha a obratnost mužů, jako byli baron von Richthofen, Oswald Boelcke, Mick Mannoc, Billy Bishop a Hermann Goering z nich udělaly legendy. V bitvě o Británii se proslavili piloti královského letectva RAF, kteří bojovali s Luftwaffe, jako Josef František a Ginger Lacey. Na západní frontě zazářili taktiční géniové Werner Moelders a Adolf Galland, v severní Africe Hans-Joachim Marseille, na východní frontě Erich Hartmann - eso es, který zístal 352 vítězství, což je nejvyšší dokázaný úspěch v dějinách letectví. Příběh leteckých es je sérií vzdušných bojů, jak je přinesly obě světové války.
---
czech title: Fighter Aces
produkce Filmexport: Ano
length: 57 min.
colour: černobílý / barevný
year of release: 1990
studio: Castle Communications PLC
country of origin: Velká Británie
director: Dave Flitton
sound: 1 CZ 2 originál
language version: česká
medium type: BTC
Join us, we have our own channel!

where you will find samples from archival Czech films, animated fairy tales and documentaries, which we have released on DVD. You can also access them from our website, just click on the following names - Movie Songs and Favorite Movie Scenes and Buzz. The samples are sorted here according to individual films.