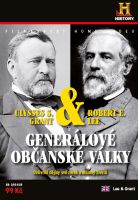 Lee & Grant - digipack
Obsáhlý dokument o mužích, které osud postavil proti sobě v době, kdy se rozhodovalo o budoucnosti národa a státu, kdy neslučitelné ideály dvou světů vyústily v americkou občanskou válku. Dokument provází diváka celým životem obou mužů, s patřičným důrazem na jejich role v době krvavého konfliktu mezi Severem a Jihem přes období poválečné až do jejich smrti. Bohaté archiválie, filmové dotáčky, výpovědi potomků i nejprestižnějších odborníků ilustrují průběh občanské války a životní cesty generálů, jejichž finální střet rozhodl o podobě dnešních Spojených států.
videoukázka
---
czech title: Lee & Grant
produkce Filmexport: Ano
length: 92 min.
colour: barevný
year of release: 2011
studio: A&E Television Networks, LLC.
country of origin: USA
director: John Ealer
picture: 16:9 PAL, region 2
sound: Dolby Digital 2.0
language version: česká, anglická
medium type: DVD-5, digipack
EAN: 8595052207764
Join us, we have our own channel!

where you will find samples from archival Czech films, animated fairy tales and documentaries, which we have released on DVD. You can also access them from our website, just click on the following names - Movie Songs and Favorite Movie Scenes and Buzz. The samples are sorted here according to individual films.