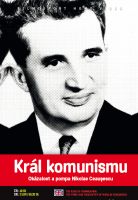 King of Communism, The: The Pomp and Pageantry of Nicolae Ceauşescu, The - DVD sleeve
Ceauşescův režim se vyznačoval jeho zálibou ve zpívajících a tančících masových manifestacích, při nichž rumunský lid předváděl pečlivě secvičené choreografické kreace obecenstvu, jež bylo výlučně tvořeno vedoucími vládními činiteli. Poutavý dokumentární film Bena Lewise se zaměřuje na život rolníka, který se stal politikem a který po dvacet let žil v absurdním přepychu a těšil se absolutní moci až do své smrti před popravčí četou v roce 1989.

videoukázka
---
czech title: The King of Communism: The Pomp and Pageantry of Nicolae Ceauşescu
produkce Filmexport: Ano
length: 59 min.
year of release: 2002
studio: Little Bird/Ben Lewis MMI
country of origin: Velká Británie
director: Ben Lewis
script: Ben Lewis
picture: 4:3 PAL, region ALL
sound: Dolby Digital 2.0
language version: česká, anglická
medium type: DVD-5, papírová pošetka
Join us, we have our own channel!

where you will find samples from archival Czech films, animated fairy tales and documentaries, which we have released on DVD. You can also access them from our website, just click on the following names - Movie Songs and Favorite Movie Scenes and Buzz. The samples are sorted here according to individual films.