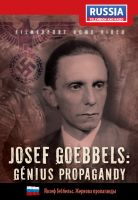 Josef Goebbles - The Propaganda Genius - digipack
Snil o kariéře v armádě, v níž mu však zabránil tělesný handicap. Pokoušel se o dráhu  dramatika, ale jeho hry nechtěl nikdo vydat. Stal se tedy tvůrcem fašistických ideálů, géniem propagandy a říšským ministrem nacistického Německa. Měl hypnotické schopnosti, což by vysvětlovalo jeho značný vliv na Hitlera. Prováděl různé okultní rituály a po celý svůj život si vedl podrobný deník. Jeho stránky, které záhadně zmizely v noc jeho sebevraždy, mohly vrhnout světlo na tajný život nacistických pohlavárů. Tento pořad přináší dosud neznámá fakta z Goebbelsova života, dosud nezveřejněné dokumenty a vzácné záběry z jeho soukromého archivu, které byly po dlouhá léta uloženy v tajných trezorech KGB.

videoukázka
---
czech title: Josef Goebbles - The Propaganda Genius
produkce Filmexport: Ano
length: 45 min.
colour: černobílý/barevný
year of release: 2011
studio: VGTRK
country of origin: Rusko
director: Anatolij Nevelskij
picture: 4:3 PAL, region 2
sound: Dolby Digital 2.0
language version: česká, ruská
medium type: DVD-5, digipack
EAN: 8595052208051
Join us, we have our own channel!

where you will find samples from archival Czech films, animated fairy tales and documentaries, which we have released on DVD. You can also access them from our website, just click on the following names - Movie Songs and Favorite Movie Scenes and Buzz. The samples are sorted here according to individual films.