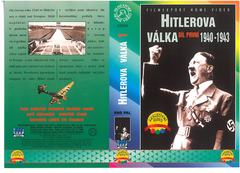 Hitlerova válka - díl první (1940 - 1943)
Od června roku 1940 se Hitlerův  sen o vládě nad Evropou blížil naplnění. V průběhu deseti měsíců si podmanil takřka celou západní Evropu a tím odstartoval svůj další plán pro vítězství na východní frontě. Povzbuzen japonským vstupem do války, Hitler doufá v rychlou jarní ofenzívu. Ale katastrofální průběh bitvy o Atlantic, ústup v Severní Africe, britsko-americká bombardovací ofenzíva, válka se Spojenými státy a drtivý útok Rudé armády radikálně ničí jeho představy.
---
czech title: Hitler´s War - Part 1
produkce Filmexport: Ano
length: 57 min.
colour: černobílý / barevný
year of release: 1991
studio: Castle Communications PLC
country of origin: Velká Británie
director: Michael Cambell
sound: 1 CZ 2 originál
language version: česká
medium type: BTC
Join us, we have our own channel!

where you will find samples from archival Czech films, animated fairy tales and documentaries, which we have released on DVD. You can also access them from our website, just click on the following names - Movie Songs and Favorite Movie Scenes and Buzz. The samples are sorted here according to individual films.