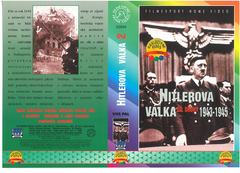 Hitlerova válka - díl druhý (1943 - 1945)
Píše se rok 1943 a německý triumf se blíží ke svému neslavnému konci. Se zničením šesté armády u Stalingradu, porážkou Africacorps a neutralizovaním takového nebezpečí jakým byly ponorky, klesá bojeschopnost německé branné moci. Roku 1944 drtí Němce invaze spojenců, nastává německý ústup ze západní Evropy, sovětská vojenská mašinérie nabíra na síle a zima 1944/1945 je ve znamení bitvy v Ardenách. Krize se prohlubuje, Hitler je nemocen a otřesen útokem vlastních generálů. Blíží se konec dalšího diktátora a největší války v dějinách.
---
czech title: Hitler´s War - Part 1
produkce Filmexport: Ano
length: 58 min.
colour: černobílý
year of release: 1991
studio: Castle Communications PLC
country of origin: Velká Británie
director: Michael Cambell
sound: 1 CZ 2 originál
language version: česká
medium type: BTC
Join us, we have our own channel!

where you will find samples from archival Czech films, animated fairy tales and documentaries, which we have released on DVD. You can also access them from our website, just click on the following names - Movie Songs and Favorite Movie Scenes and Buzz. The samples are sorted here according to individual films.