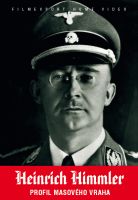 Heinrich Himmler: Profil masového vraha - papírová pošetka
Heinrich Himmler je považován za vtělení masového vraha. Vytvořil pseudonáboženský řád a jeho SS působila jako velmi obávaný nástroj teroru. Díky vzácným a dosud nepublikovaným archivním materiálům, fotografiím historických míst a záznamům rozhovorů s vybranými osobami tento filmový životopis ukazuje jak a zejména proč se z Himmlera stala zrůda lidských dějin.

videoukázka
---
czech title: Heinrich Himmler: Anatomy of a Mass Murderer
produkce Filmexport: Ano
length: 52 min.
colour: černobílý
year of release: 2008
studio: SPIEGEL TV GmbH
country of origin: Německo
director: Michael Kloft
script: Michael Kloft
director of photography: Jan Kerhart
music: Kolja Erdmann
picture: 16:9 PAL, region ALL
sound: Dolby Digital 2.0
language version: česká
medium type: DVD-5, papírová pošetka
Join us, we have our own channel!

where you will find samples from archival Czech films, animated fairy tales and documentaries, which we have released on DVD. You can also access them from our website, just click on the following names - Movie Songs and Favorite Movie Scenes and Buzz. The samples are sorted here according to individual films.