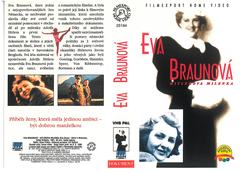 Eva Braunová - Hitlerova milenka
Eva Braunová, dnes jedna z nejopovrhovanějších žen Německa, se nechvalně proslavila díky své cestě od neznámé pomocnice v obchodě až po milenku Adolfa Hitlera a první ženu říše. Tento dokument je složen z jejích osobních filmů, které z větší části natočila v bavorském Berghofu. Svá léta strávená ve společnosti Adolfa Hitlera nezasvětila Eva Braunová politice, ale tanci, zvířatům a romantickým filmům. A byla to právě její láska k filmovým záznamům, která umožnila vznik tohoto neobvyklého a makabrózního dokumentu. Díky ní můžeme spatřit nejvýznamnější postavy německé politiky za 2. světové války, domácí párty i civilní okamžiky Hitlerova života a jeho věrných jako byli Goering, Goebbels, Himmler, Speer,  Von Ribbentrop, Bormann a další.
---
czech title: Eva Braun - Hitlers Mistress
produkce Filmexport: Ano
length: 50 min.
colour: černobílý/barevný
year of release: 1991
studio: Castle Communications PLC
director: Dave Flitton
sound: 1 CZ 2 ME
language version: česká
medium type: BTC
Join us, we have our own channel!

where you will find samples from archival Czech films, animated fairy tales and documentaries, which we have released on DVD. You can also access them from our website, just click on the following names - Movie Songs and Favorite Movie Scenes and Buzz. The samples are sorted here according to individual films.