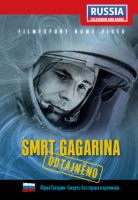 Death of Yuriy Gagarin, The. Unrevealed Pages. - digipack
Smrt prvního sovětského kosmonauta Jurije Gagarina se řadí k nejtragičtějším záhadám dvacátého století. Do dnešního dne jsou trosky jeho letounu uloženy v hermeticky utěsněných kontejnerech a čekají na důkladné prozkoumání. Ve snaze vrhnout nové světlo na tuto tragédii přináší tento dokument neotřelý pohled na sled událostí, jež mohly zapříčinit Gagarinovu smrt. Odhalená fakta naznačují, že příčin nehody mohla být celá řada od technické závady, tak vehementně prosazované KGB, přes neúspěšný zkušební let supertajného stíhacího letounu, který sestřelil letadlo prvního člověka ve vesmíru. Oficiální verze Gagarinovy smrti přitom zůstává nadále beze změny.

videoukázka
---
czech title: The Death of Yuriy Gagarin. Unrevealed Pages.
produkce Filmexport: Ano
length: 45 min.
colour: barevný
year of release: 2011
studio: VGTRK
country of origin: Rusko
director: Anatolij Nevelskij
script: Anna Kolodězněva
picture: 16:9 PAL, region 2
sound: Dolby Digital 2.0
language version: česká, ruská
medium type: DVD-5, digipack
EAN: 8595052208068
Join us, we have our own channel!

where you will find samples from archival Czech films, animated fairy tales and documentaries, which we have released on DVD. You can also access them from our website, just click on the following names - Movie Songs and Favorite Movie Scenes and Buzz. The samples are sorted here according to individual films.