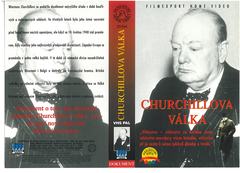 Churchillova válka
Winstonu Churchillovi se podařilo dosáhnout nejvyššího úřadu v době bouřlivých a nebezpečných událostí. Ve třicátých letech byla jeho četná varování před fanatismem nacistů opomíjena, ale když se 10. května 1940 stal premiérem, byly všechny jeho nejhroznější předpovědi skutečností. Západní Evropa se proměnila v jedno velké bojiště. V té době již německé divize nezadržitelně zaplavovaly Nizozemí i Belgii a dotíraly na francouzské hranice. Britské vyhlídky na válečné vítězství byly za této situace mizivé. A přece se Velká Británie pod vedením Winstona Chruchilla dokázala ubránit a nakonec zvítězit.
---
czech title: Churchill's War
produkce Filmexport: Ano
length: 57 min.
year of release: 1989
studio: Castle Communications PLC
country of origin: Velká Británie
director: Michael Cambell
sound: 1 CZ 2 originál
language version: česká
medium type: BTC
Join us, we have our own channel!

where you will find samples from archival Czech films, animated fairy tales and documentaries, which we have released on DVD. You can also access them from our website, just click on the following names - Movie Songs and Favorite Movie Scenes and Buzz. The samples are sorted here according to individual films.