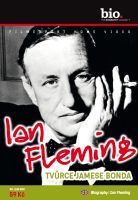 Biography: Ian Fleming - DVD sleeve
Ian Fleming (1908-1964), tvůrce Jamese Bonda, se velmi podobal své fiktivní postavě. Fleming byl špión, známý sukničkář a miloval své martini protřepané, ne míchané. Patřil k britské aristokracii, byl novinářem, bankéřem a vojákem. Svůj první román napsal ve věku 43 let. Během dalších 11 let napsal 13 románů s Bondem a knihu pro děti Chitty Chitty Bang Bang. Od okamžiku převedení na filmové plátno, James Bond zahájil nejdelší filmový seriál na světě. O čtyřicet let později se James Bond stal světově nejznámějším špiónem.

videoukázka
---
czech title: Biography: Ian Fleming
produkce Filmexport: Ano
length: 45 min.
colour: barevný
year of release: 2004
studio: A&E Television Networks, LLC.
country of origin: USA
picture: 4:3 PAL, region 2
sound: Dolby Digital 2.0
language version: česká, anglická
medium type: DVD-5, papírová pošetka
Join us, we have our own channel!

where you will find samples from archival Czech films, animated fairy tales and documentaries, which we have released on DVD. You can also access them from our website, just click on the following names - Movie Songs and Favorite Movie Scenes and Buzz. The samples are sorted here according to individual films.