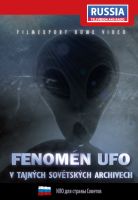 Meeting UFO - digipack
Sovětské speciální síly vždy urputně popíraly jakýkoli zájem o fenomén UFO. Dnes už je však zcela zřejmé, že sledování neznámých létajících objektů bylo součástí vojenské doktríny Sovětské armády. Představitelé nejvyššího velení ozbrojených sil SSSR dokonce vydali nařízení, jež obsahovalo podrobné pokyny o tom, jak postupovat při setkání s UFO. V tomto pořadu budete moci zhlédnout jedinečné záběry, záznamy z odtajněných archivů a rozhovory s příslušníky Sovětské armády, kteří se těchto tajných honů na UFO účastnili.

videoukázka
---
czech title: Meeting UFO
produkce Filmexport: Ano
length: 45
colour: barevný
year of release: 2011
studio: VGTRK
country of origin: Rusko
picture: 4:3 PAL, region 2
sound: Dolby Digital 2.0
language version: česká, ruská
medium type: DVD-5, digipack
EAN: 8595052208037
Join us, we have our own channel!

where you will find samples from archival Czech films, animated fairy tales and documentaries, which we have released on DVD. You can also access them from our website, just click on the following names - Movie Songs and Favorite Movie Scenes and Buzz. The samples are sorted here according to individual films.