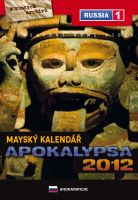 Mayan Calendar, The: The Apocalypse 2012 - digipack
Mayský kalendář, jenž představuje jednu z největších záhad, kterou po sobě tato civilizace zanechala, nás nepřestává udivovat svojí nevídanou přesností. Podle mayského kalendáře končí náš současný věk Pátého slunce 21. prosince 2012 a co přijde následující den, nikdo netuší. Jisté však je, že změny přijdou. Autoři tohoto dokumentárního filmu se vydali do Mexika, kde navštívili ruiny staveb starodávných civilizací, a rovněž se setkali se zastánci mayského proroctví, ale i se skeptiky z řad tradičních vědců.

videoukázka
---
czech title: The Mayan Calendar: The Apocalypse 2012
produkce Filmexport: Ano
length: 44 min.
colour: barevný
year of release: 2008
studio: TV Channel Russia
country of origin: Rusko
director: Andrej Vereščagin
script: Igor Vasilkov
picture: 4:3 PAL, region 2
sound: Dolby Digital 2.0
language version: česká, ruská
medium type: DVD-5, digipack
EAN: 8595052206323
Join us, we have our own channel!

where you will find samples from archival Czech films, animated fairy tales and documentaries, which we have released on DVD. You can also access them from our website, just click on the following names - Movie Songs and Favorite Movie Scenes and Buzz. The samples are sorted here according to individual films.