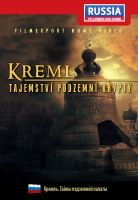 Kremlin. Secrets from the Underground, The - digipack
V podzemí Archandělského chrámu v moskevském Kremlu se nachází krypta, jež je mimořádná tím, že byla vyhrazena pouze ženám. Jsou v ní pohřbeny ostatky padesáti význačných žen z období středověké Rusi. Jména mnohých z nich byla dávno zapomenuta, jiná si lidé pamatují dodnes. Je zde pochována choť Dmitrije Donského, z jejíhož popudu byla krypta vybudována, matka Ivana Hrozného, matka Petra Velikého… Všechny tyto ženy ovlivnily chod dějin, některé zaujímaly význačnou politickou pozici, jiné obětovaly svůj život jako oddané manželky. Každá z těchto překrásných žen přitom skrývala mnohá tajemství.

videoukázka
---
czech title: The Kremlin. Secrets from the Underground
produkce Filmexport: Ano
length: 43 min.
colour: barevný
year of release: 2006
studio: VGTRK
country of origin: Rusko
director: Michail Rogovoj, Alexandr Gromov
script: Michail Rogovoj, Alexandr Gromov
picture: 4:3 PAL, region 2
sound: Dolby Digital 2.0
language version: česká, ruská
medium type: DVD-5, digipack
EAN: 8595052206644
Join us, we have our own channel!

where you will find samples from archival Czech films, animated fairy tales and documentaries, which we have released on DVD. You can also access them from our website, just click on the following names - Movie Songs and Favorite Movie Scenes and Buzz. The samples are sorted here according to individual films.