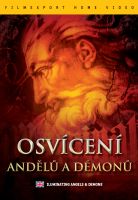 Iluminating Angels & Demons - digipack
Stejně jako v Brownově knize Šifra mistra Leonarda, i tady nalezneme na pozadí příběhu skutečná fakta a pozoruhodnou pravdu. Proč Vatikán mlčí o své minulosti a událostech s ní spojených? Existuje vůbec ve skutečnosti společenství Iluminátů? Snaží se Ilumináti zničit Vatikán nebo mají vyšší ambice? Kdo jsou andělé a kdo démoni?
POSLECHNĚTE SI EXPERTY
Přidejte se k Simonu Coxovi, autorovi mezinárodních bestsellerů Andělé a démoni Fakta a Rozluštění šifry mistra Leonarda, a vydejte se na výpravu, která vám odhalí plán na ovládnutí světa, jež se datuje už od počátků vzniku křesťanství.
OBJEVTE PRAVDU
Je to víc než jen pouhé hledání důkazů, Osvícení andělů a démonů vám odhalí intriky barokního a renesančního Říma a jejich důsledky, které jsou patrné dodnes.
UZŘETE UMĚNÍ
Abyste odhalili fakta a fikci na pozadí Brownova románu, budete následovat "Cestu osvícení" a prohlédnete si úžasné Berniniho sochy a fontány, vznešené náměstí sv. Petra a okolí města Vatikánu. Prozkoumáte i starobylý Pantheon a egyptské obelisky a dozvíte se o jejich významu a důležitosti pro Řím a Vatikán.

videoukázka
---
czech title: Iluminating Angels & Demons
produkce Filmexport: Ano
length: 90 min.
colour: barevný
year of release: 2005
studio: UFO Global Media LLC.
country of origin: USA
script: Tom Reynolds, Maxwell Scott Martin
theme: Geof Petch, Simon Cox
music: Jeff Edwards
picture: 4:3 PAL, region 2
sound: Dolby Digital 2.0
language version: česká, anglická
medium type: DVD-5, digipack
EAN: 8595052208761
Join us, we have our own channel!

where you will find samples from archival Czech films, animated fairy tales and documentaries, which we have released on DVD. You can also access them from our website, just click on the following names - Movie Songs and Favorite Movie Scenes and Buzz. The samples are sorted here according to individual films.