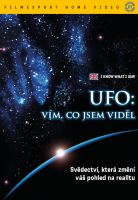 I Know What I Saw - digipack
Na vskutku mimořádném setkání, jehož dějištěm byl Národní tiskový klub ve Washingtonu D.C., se díky Foxově úsilí sešli nejvěrohodnější svědci ze sedmi zemí, mezi nimi i generálové letectva USA, astronauti, vojenští i komerční piloti, ale i vládní představitelé, aby se podělili o svá svědectví. Jejich výpovědi přinášejí šokující důkazy o zákulisní vládní operaci, jež byla zahájena před mnoha desetiletími a jejímž cílem je konfiskovat a hromadit hmotné důkazy blízkých setkání s údajně mimozemskými bytostmi a plavidly. Ti, kdo jsou do operace zapojeni na nejvyšší úrovni, prozrazují důvody, proč vláda dosud vše zatajovala a zametala stopy, proč dokonce ani američtí prezidenti nedostali přímou odpověď.
Tento dokument, který vás naprosto pohltí, obsahuje unikátní obrazové záznamy a fotografie doplněné o překvapující výpovědi očitých svědků a jeho záměrem není jen dále přiživovat celosvětovou fascinaci fenoménem UFO, nýbrž i poodhalit mýty, teorie i zastírací pokusy nejvyšších míst, aby se pokusil zjistit, co skutečně je "tam venku"…

videoukázka
---
czech title: I Know What I saw
produkce Filmexport: Ano
length: 91 min.
colour: barevný
year of release: 2009
studio: FCZ Media, LLC.
country of origin: USA
director: James Fox
script: J. Fox, J. Gardner, T. Christopher, R. Lee
picture: 16:9 PAL, region 2
sound: Dolby Digital 2.0
language version: česká, anglická
medium type: DVD-5, digipack
EAN: 8595052206330
Join us, we have our own channel!

where you will find samples from archival Czech films, animated fairy tales and documentaries, which we have released on DVD. You can also access them from our website, just click on the following names - Movie Songs and Favorite Movie Scenes and Buzz. The samples are sorted here according to individual films.