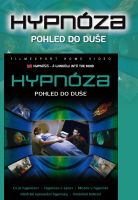 Hypnosis - A Window into the Mind - DVD sleeve
Hypnóza byla dlouho záhadou a vždy nás fascinovala i zneklidňovala. Moderní vědecké výzkumy jednoznačně potvrzují názor, že schopnosti lidského mozku jsou neomezené a my teprve začínáme rozpoznávat jeho skutečný potenciál. Hypnóza se uplatňuje v celé řadě oblastí od medicíny až po sport.
V dokumentu budeme svědky skutečných sezení, při nichž jsou jednotlivci poprvé zhypnotizováni. Budeme sledovat každou jejich reakci a posléze si vyslechneme i jejich vlastní dojmy. Celý postup nám důkladně vysvětlí samotní hypnoterapeuté, zatímco světově uznávaní vědci konečně uvedou otázku hypnózy na pravou míru.
Tento dokument na vás může zapůsobit jakkoli, jen vás dozajista neuspí! Ve skutečnosti je více než pravděpodobné, že probudí vaši zvědavost.

videoukázka
---
czech title: Hypnosis - A Window into the Mind
produkce Filmexport: Ano
length: 52 min.
colour: barevný
year of release: 2002
studio: PIXCOM PRODUCTIONS – GALAXIE PRODUCTION
country of origin: Kanada / Francie
director: Denis Blaquière
script: Denis Blaquière
theme: Catherine Berthillier
picture: 4:3 PAL, region ALL
sound: Dolby Digital 2.0
language version: česká, anglická
medium type: DVD-5, papírová pošetka
EAN: 8595052200321
Join us, we have our own channel!

where you will find samples from archival Czech films, animated fairy tales and documentaries, which we have released on DVD. You can also access them from our website, just click on the following names - Movie Songs and Favorite Movie Scenes and Buzz. The samples are sorted here according to individual films.