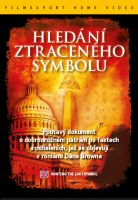 Hunting The Lost Symbol - digipack
Vydejte se na jedinečné dobrodružství protkané tajnými šiframi, stavbami i symboly zmiňovanými v Brownově knize. Dokument zkoumá všechny tyto klíčové elementy, odkrývá pravdu o "uzavřených" tajných bratrstvech a společenstvích, o nové vědě a odhaluje, co jsou historické skutečnosti a co literární fikce – to vše za pomoci uznávaných kryptologů, psychologů, historiků a dalších renomovaných expertů. Dokument odděluje pravdivé historické skutečnosti od literární fikce a nabízí nám neobvykle obšírný a fascinující pohled na Ztracený symbol, jenž zcela uchvátil miliony čtenářů po celém světě.

videoukázka
---
czech title: Hunting The Lost Symbol
produkce Filmexport: Ano
length: 88 min.
colour: barevný
year of release: 2009
studio: Paranormal Media, LLC.
country of origin: USA
director: John Tindall
script: Maddie Miyoshi, Brian Coughlin, Richard Ross
picture: 16:9 PAL, region 2
sound: Dolby Digital 2.0
language version: česká, anglická
medium type: DVD-5, digipack
EAN: 8595052207801
Join us, we have our own channel!

where you will find samples from archival Czech films, animated fairy tales and documentaries, which we have released on DVD. You can also access them from our website, just click on the following names - Movie Songs and Favorite Movie Scenes and Buzz. The samples are sorted here according to individual films.