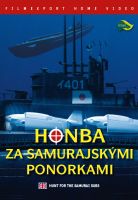 Hunt for the Samurai Subs - digipack
Těsně předtím, než atomová bomba přinutila Japonsko ustoupit, armáda japonského císařství vyslala neuvěřitelně vyspělou flotilu ponorek k americkým břehům. Měly zaútočit na velká města. Jejich ponorky byly obrovské a moderně vyzbrojené. Japonsko se však vzdalo dřív, než k útoku došlo. Američané se ponorek zmocnili. Chtěli je důkladně prozkoumat, ale když se pak sovětští vědci dožadovali přístupu na ně, raději je potopili poblíž Havaje. Dodnes bylo tajemstvím, kde přesně. Tým vědců se rozhodl prozkoumat okolí ostrovů a najít ztracenou chloubu japonského císařství. Terry Kerby a Max Cremer se v ponorce vydají do hloubky téměř jednoho kilometru a budou se snažit najít největší a nejrychlejší ponorky 2. světové války a vyřešit tak jednu z největších válečných záhad.

videoukázka
---
czech title: Hunt for the Samurai Subs
produkce Filmexport: Ano
length: 50 min.
year of release: 2009
studio: NGC Network US, LLC.
country of origin: USA
director: Devon O. Chivvis
script: Devon O. Chivvis
picture: 16:9 PAL, region ALL
sound: Dolby Digital 2.0
language version: česká, anglická
medium type: DVD 5, digipack
EAN: 8595052208686
Join us, we have our own channel!

where you will find samples from archival Czech films, animated fairy tales and documentaries, which we have released on DVD. You can also access them from our website, just click on the following names - Movie Songs and Favorite Movie Scenes and Buzz. The samples are sorted here according to individual films.