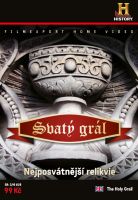 Holy Grail, The - digipack
I přes svou proslulost zůstává svatý grál opředen tajemstvím. Co přesně svatý grál byl? Mohl se dochovat dodnes? Proč přitahoval tolik hledačů pokladů? Pro křesťany je to předmět nejposvátnější. Je to pohár, z něhož pil Ježíš Kristus při poslední večeři a do něhož měla být zachycena jeho krev, když umíral na kříži. Samotný příběh se ovšem objevil až ve středověku, kdy posloužil jako záminka křižáckých tažení.
Dokument Joshe Bernsteina sleduje stopy svatého grálu ze Svaté země do středověkých francouzských hradů. Odkrývá i temnou kapitolu z období nacismu, kdy Hitler financoval hledání svatého grálu, aby s jeho pomocí mohl stvořit tajný rytířský řád. Putování po stopách svatého grálu nakonec Joshu Bernsteinovi odhalí jeho pravý význam a moc.

videoukázka
---
czech title: The Holy Grail
produkce Filmexport: Ano
length: 45 min.
colour: barevný
year of release: 2005
studio: A&E Television Networks, LLC.
country of origin: USA
picture: 4:3 PAL, region 2
sound: Dolby Digital 2.0
language version: česká, anglická
medium type: DVD-5, digipack
EAN: 8595052207832
Join us, we have our own channel!

where you will find samples from archival Czech films, animated fairy tales and documentaries, which we have released on DVD. You can also access them from our website, just click on the following names - Movie Songs and Favorite Movie Scenes and Buzz. The samples are sorted here according to individual films.