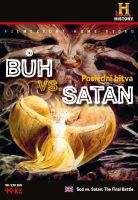 God vs. Satan: The Final Battle - digipack
Armagedon. Univerzální téma, které prochází po staletí všemi kulturami. Někteří tvrdí, že jeho význam se každým dnem zvyšuje. Překvapivě, poslední kapitola tohoto apokalyptického konce nebyla nikdy detailně prozkoumána: poslední boj mezi Bohem a Satanem, dobrem a zlem. Bible poukazuje na bitvu u města Meggido, na území dnešního Izraele. Jak bude tato bitva vypadat? Jak se tyto příběhy zrodily a jak se liší v průběhu dějin, v interpretaci různých náboženství? Bůh proti Satanovi.

videoukázka
---
czech title: God vs. Satan: The Final Battle
produkce Filmexport: Ano
length: 87 min.
colour: barevný
year of release: 2008
studio: A&E Television Networks, LLC.
country of origin: USA
picture: 4:3 PAL, region 2
sound: Dolby Digital 2.0
language version: česká, anglická
medium type: DVD-5, digipack
EAN: 8595052208648
Join us, we have our own channel!

where you will find samples from archival Czech films, animated fairy tales and documentaries, which we have released on DVD. You can also access them from our website, just click on the following names - Movie Songs and Favorite Movie Scenes and Buzz. The samples are sorted here according to individual films.